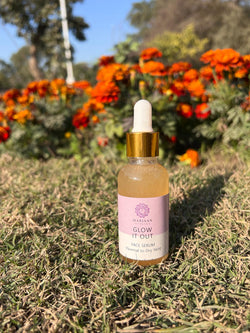 Product Description:
This magical serum is a unique blend of Organic Vitamin C extracts and Pure  Hyaluronic Acid to make your skin plump and glow.
Ingredients:
Vit. C Extract 
Hyaluronic Acid 
Rose Water
Aqua 
Lavender Essential Oil
Paraben Free Preservative
30ml
Directions: Take few drops and massage  on face in upward circular motions.
99.9% Natural
No Parabens
No SLS 
No Triclosan
No Artificial Fragrances
No Animal Testing
Carcinogen-Free
Cruelty-Free
Preservative Free
*Tested on friends & family
*Use within 12 months of opening
*Plastic Free Container